Rappers Get Real About Urban Farming, Swap Cheetos For Veggies
Updated: Dec 30, 2020
"Screaming Hot Cheetos and Takis / Boy, you better eat your broccoli."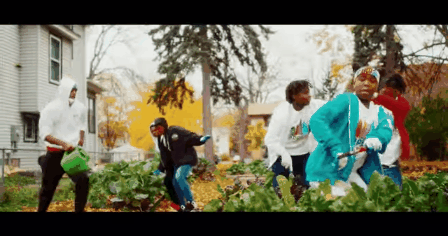 Lettuce turnip the beet.
The Beats and Rhymes Crew, which had a viral hit in 2012 with their song, "Hot Cheetos & Takis," have changed their tune. They've gotten together with north Minneapolis' Appetite For Change, a nonprofit that teaches communities how to grow and cook healthy food, to create "Grow Food," a song all about urban farming.
The song features performances by kids involved with AFC — who also collaborated on lyrics — and has over 2.6 million views on Facebook since its video was posted on Dec. 6.
"Screaming Hot Cheetos and Takis / Boy, you better eat your broccoli," raps one member of the group in the catchy song.
The song delivers an important message about the availability of nutritious food in urban areas.
For instance, one verse says:
"See in my hood there ain't really much to eat / Popeyes on the corner, McDonald's right across the street / All this talk about guns and the drugs, pretty serious / But look at what they feeding y'all / That's what's really killing us." To read the full article, click here.
Credit: HuffPost